Acne Treatments in Pepper Pike, Ohio
Acne affects millions of people each year and is the most common skin condition in the United States. In fact, over 50 million Americans currently suffer from acne. You may know acne as an adolescent skin condition but did you know that acne can affect you at any point in your life, no matter your age? On the other hand, you may be experiencing acne and acne scarring.
Body & Contouring Treatments
We invite you to get one step closer to the figure you have always dreamed of with non-surgical body contouring treatments. Millions of people suffer with body issues and concerns. Even with a good diet and exercise routine, many people still struggle with stubborn pockets of fat, loose sagging skin, unwanted cellulite or unsightly leg or facial veins. With the advancements in technology many patients are unaware that there are non- surgical options to get the body you deserve. Today's treatments target the largest variety in body contorting, skin tightening or unsightly veins. Our optimal correction protocols are designed to safely and effectively treat the multiple concerns that we all face, no one is alone in this journey, and Cosmetic Rejuvenation center is here to help.
---
Acne has a lot of different causes. Practicing a good skin care routine can help prevent superficial causes like too oily skin. However some causes may need medical intervention. Often traditional treatments for acne and acne scarring include medications like antibiotics, topical creams, and sometimes injections or surgery. All of these treatments will provide varying results, especially if tried at home.
The following factors can cause or worsen acne:
Excess oil production in the skin

Hair follicles clogged by oil and dead skin cells

Bacteria

Overactivity of a hormone

Diet

Stress
Acne can develop in a number of areas including the back, face, forehead, or even chest. It can surface as pimples, whiteheads, or blackheads which can indicate bacteria or an excess of oil in the area. Along with these, acne scars will develop that can be hard to get rid of. Often, surgery is required to remove these scars, but what if there was another, less-invasive way?
---
Minimally-Invasive Acne Treatments
At Cosmetic Rejuvenation Center, we offer the following treatments for skin rejuvenation and acne scars:
Do you have acne scars, age spots, and Rosacea that won't go away no matter the products you try? IPL is a non-invasive treatment that requires no downtime, that treats skin damage without disruption of the skin's surface. This therapy has rejuvenated many people's skin conditions, from broken capillaries and acne scars to age spots.
This revolutionary technology does it all. It tightens sagging skin, improves the appearance of facial lines and wrinkles, smooth rough or uneven texture, treats hyperpigmentation and acne scarring and even reduces unwanted facial fat. Even more, it's minimally invasive meaning it requires little to no downtime.
Our results-driven peels are the most effective and advanced skin rejuvenation systems available. Your skin will be evaluated by our professional aestheticians to find a skin peel that meets your skin goals, wants and needs. Our peels are results-driven and require little to no downtime, so you can have skin you love while still returning to your daily activities after treatment.
Microneedling works by stimulating the production of collagen in the face.Since the main cause of aging is a lack of this collagen, as your skin heals from microneedling, it will take care of many of the issues that plague your face, including sun damage, signs of aging, and acne scars.
---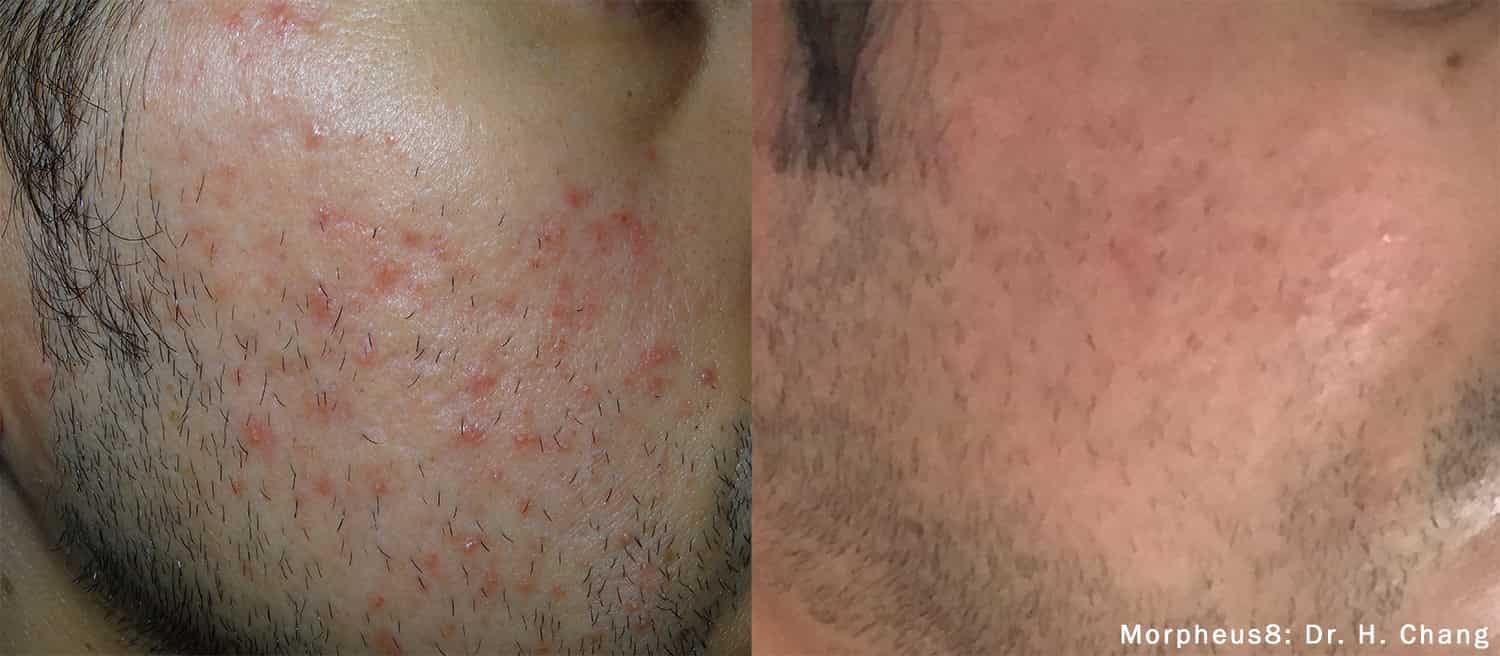 Try Industry-Leading Acne Treatments in Pepper Pike, OH!
If you have been struggling with acne and acne scars, our rejuvenation specialists are here to help. Cosmetic Rejuvenation Center uses only the most advanced skin rejuvenation technology and acne treatments available. Paired with expert knowledge, our specialists can help you see results. Visit Cosmetic Rejuvenation Center in Pepper Pike, OH today to rejuvenate your skin, treat acne, and remove scarring from acne. Your path to beautiful, clear skin exists - let's walk it together!
Question About Which Body & Contouring Treatment Is For You?
---